Unraveling the Enigma of COVID-19 Variant BA.2.86, Codenamed Pirola: What We Know So Far
In the ever-evolving landscape of COVID-19, a new contender has emerged on the global stage – the BA.2.86 variant, affectionately referred to as Pirola within scientific circles. This novel variant has drawn the watchful gaze of the World Health Organization (WHO), sparking both curiosity and concern among experts worldwide. Let's delve into what we've learned about this intriguing newcomer; the Enigma of COVID-19 Variant BA.2.86, Codenamed Pirola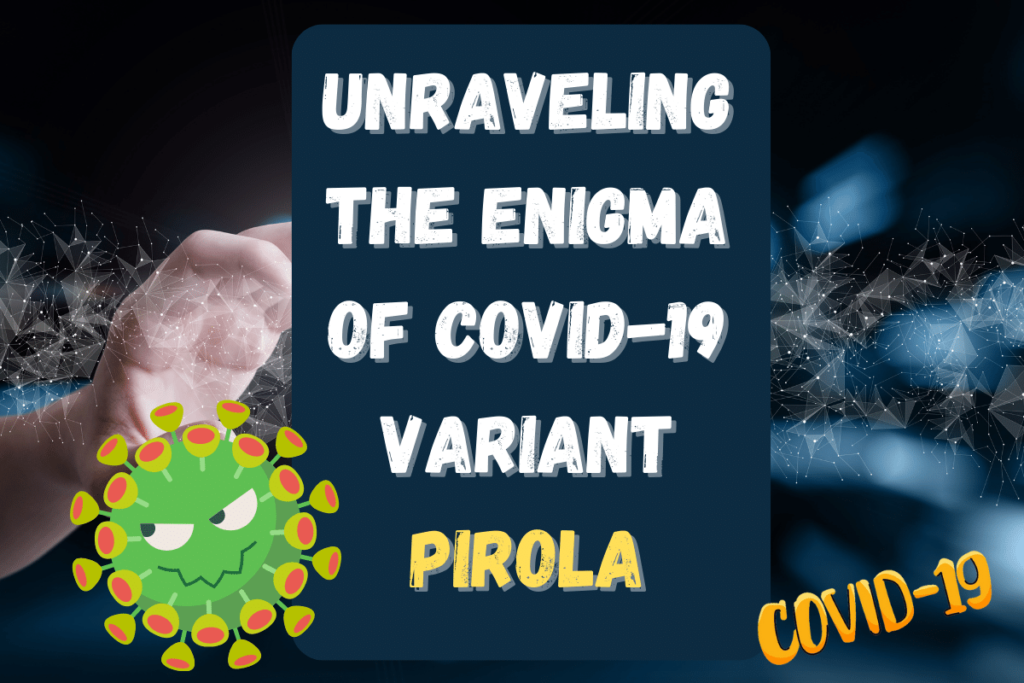 Detection in Limited Quarters:
Pirola's presence has been noted in only four countries to date: Denmark, Israel, the United Kingdom, and the USA. Despite its limited geographic reach, the scientific community has already earmarked it for close scrutiny due to its unique genetic makeup.
A Variant Under Monitoring (VUM):
BA.2.86 has earned the classification of a Variant Under Monitoring by the WHO. This decision stems from the multitude of mutations it carries, setting it apart from its viral counterparts. The WHO's categorization prompts a comprehensive global assessment of the variant's epidemiology, as well as meticulous tracking of its characteristics and spread. In contrast, the more formidable designation of Variant of Concern (VOC) triggers a heightened response, underscoring the significance of BA.2.86's current classification.
A Pantheon of Variants:
Within the WHO's purview, BA.2.86 is just one of several variants being diligently watched. Currently, there are ten COVID-19 strains under observation, with three bearing the title of Variant of Interest (VOI). The intricate network of variant lineages includes not only BA.2.86 but also the likes of BA.2.75, CH.1.1, XBB, and more.
Awaiting Clarity:
The true nature of BA.2.86 remains shrouded in uncertainty. The WHO, echoing the sentiments of the global scientific community, emphasizes the need for more data to comprehensively grasp this variant and its potential impact. The abundance of mutations has prompted heightened attention, and the WHO pledges to keep nations and the public informed as new insights emerge.
Comparisons and Predictions:
Francois Balloux, a prominent figure in computational systems biology at University College London, deems BA.2.86 a standout within the realm of SARS-CoV-2 strains. While predicting the variant's behavior is an exercise in speculation, experts like Dr. Balloux believe it is unlikely to deviate drastically from its Omicron predecessors. Even in a worst-case scenario, where BA.2.86 triggers a wave of infections, the widespread vaccination and immunity acquired over the course of the pandemic could mitigate the severity of the disease.
The Moniker "Pirola":
In the absence of a formal nomenclature for Variants Under Monitoring or Interest, the scientific community has embraced creativity in naming these viral mutants. Pirola, a name inspired by an asteroid in the vicinity of Jupiter, has been adopted by scientists on social media. This inventive approach aims to make these complex variants more accessible to the general public, fostering understanding amid the ongoing pandemic.
As we venture into uncharted territory with BA.2.86, the scientific community's vigilance and dedication to understanding this variant will remain steadfast. While the road ahead might be uncertain, the collaborative efforts of researchers, healthcare professionals, and organizations like WHO will continue to illuminate the path toward a better grasp of this intriguing newcomer in the world of COVID-19.