Ayurvedic Remedies for Flesh-Eating Bacteria: Nature's Defence Against a Menacing Threat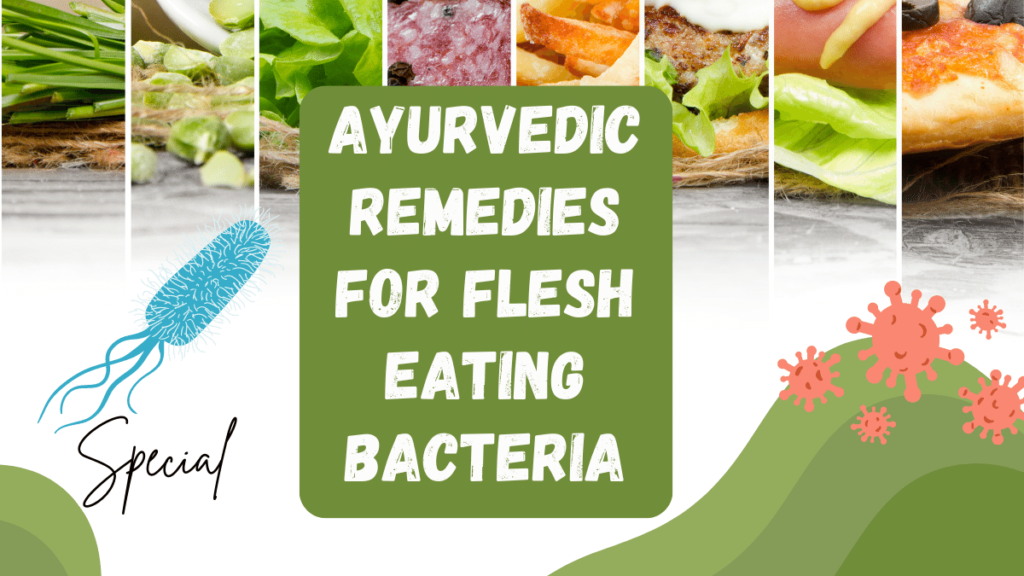 Introduction
In recent years, the rise of flesh-eating bacteria infections has raised alarm bells in the medical community. These aggressive infections, medically known as necrotising fasciitis, can lead to rapid tissue destruction and life-threatening complications if not treated promptly; Ayurvedic Remedies for Flesh-Eating Bacteria.
While modern medicine has made significant advancements in combating these infections, ancient systems like Ayurveda offer holistic remedies that complement conventional treatments. In this blog, we delve into Ayurvedic remedies that can potentially aid in the battle against flesh-eating bacteria.
1. Ayurveda: A Brief Overview
Ayurveda, an ancient system of medicine originating in India, is based on the principles of balancing the body's energies (doshas) to achieve optimal health. This holistic approach emphasises the importance of harmonising the mind, body, and spirit to prevent and treat ailments.
2. Ayurvedic Remedies for Flesh-Eating Bacteria
2.1. Turmeric (Curcuma longa):
Turmeric, a vibrant yellow spice, is renowned for its potent anti-inflammatory and antibacterial properties. Curcumin, its active compound, has shown potential in inhibiting the growth of various bacterial strains. In Ayurveda, turmeric is often used to cleanse wounds and promote healing.
2.2. Neem (Azadirachta indica):
Neem is a versatile herb known for its powerful antimicrobial and immune-boosting effects. Applying neem paste or oil to wounds may aid in preventing infection and supporting tissue regeneration.
2.3. Aloe Vera (Aloe barbadensis miller):
Aloe vera possesses natural wound-healing and anti-inflammatory properties. Its cooling and soothing effects may provide relief to the affected area and assist in preventing further tissue damage.
2.4. Manuka Honey:
Although not traditionally part of Ayurveda, manuka honey's antibacterial properties have gained recognition worldwide. Applying medical-grade manuka honey to wounds can help create a protective barrier against bacterial growth.
3. Ayurvedic Lifestyle Recommendations
3.1. Balanced Diet:
Emphasise a diet that aligns with your dominant dosha. Incorporate warm, easily digestible foods, such as soups and herbal teas, to support digestion and overall immunity.
3.2. Hydration:
Adequate hydration is crucial for toxin elimination and tissue repair. Consume warm water infused with Ayurvedic herbs like ginger or tulsi (holy basil) for added benefits.
3.3. Stress Management:
Chronic stress weakens the immune system. Practice relaxation techniques like meditation, yoga, and pranayama (breath control) to reduce stress and enhance your body's defence mechanisms.
4. The Importance of Consultation
While Ayurvedic remedies can offer valuable support, it's essential to remember that flesh-eating bacteria infections are serious medical conditions that demand immediate attention. Consult a qualified medical professional before integrating Ayurvedic remedies into your treatment plan.
Conclusion
The emergence of flesh-eating bacteria infections has underscored the need for comprehensive approaches to treatment. Ayurveda, with its rich history of holistic healing, presents a range of remedies and lifestyle practices that can potentially complement modern medical interventions. By embracing the wisdom of Ayurveda alongside conventional treatments, we may find a more comprehensive approach to combatting the menace of flesh-eating bacteria and promoting overall wellness.
(Note: This blog is for informational purposes only and should not be considered a substitute for medical advice. Consult a medical professional before making any changes to your healthcare routine.)