Unveiling Silent Threat: 5 Subtle Indicators of High Cholesterol Revealed by Your Body
High cholesterol, a potential time bomb ticking within, often remains invisible until a blood test uncovers the truth. However, your body might be dropping hints long before you head to the doctor's office. Beyond the conventional blood test, your skin, legs, and even your tongue might be trying to convey an urgent message about your cholesterol levels; indicators of high cholesterol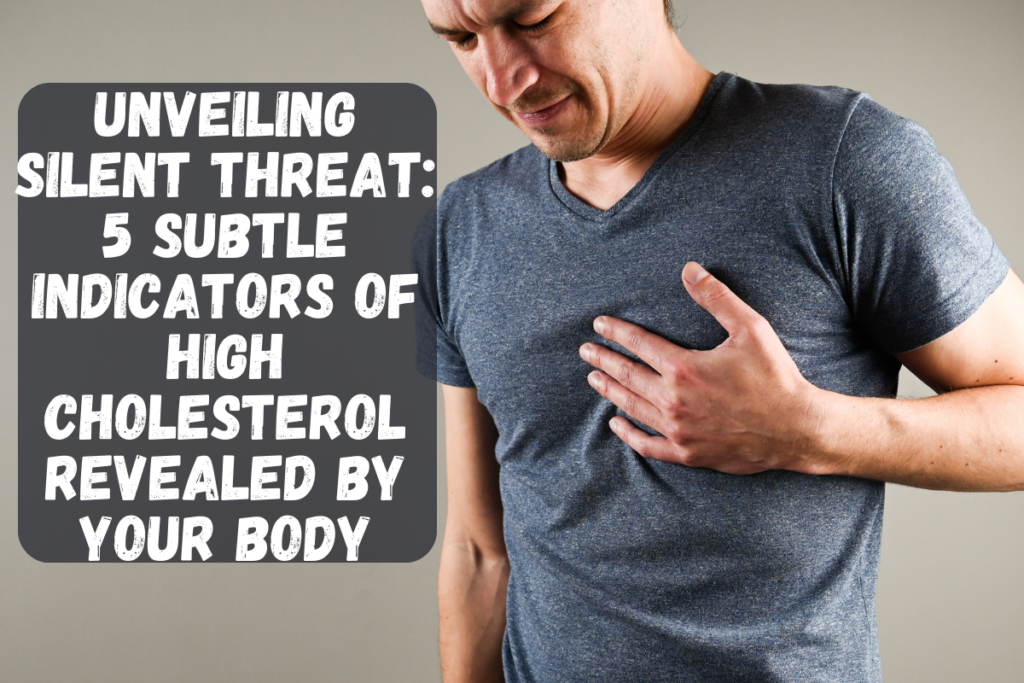 Although high cholesterol might seem harmless initially, its detrimental impact on your body can be severe and lasting. Over time, various parts of your body might start to signal the escalation of cholesterol levels through subtle indicators. Elevated concentrations of this fatty substance can considerably raise your risk of heart attacks, strokes, and other health issues. As fatty deposits accumulate within your blood vessels, they can obstruct blood flow and lead to dangerous clot formation, culminating in heart-related catastrophes.
The notorious "bad cholesterol," or low-density lipoprotein (LDL), becomes a key player in escalating health problems. While genetics can play a role in high cholesterol, lifestyle choices remain pivotal culprits, making prevention and management largely within your control. Effective strategies such as adopting a balanced diet, engaging in regular physical activity, and, if necessary, resorting to medication, can all contribute to curbing high cholesterol. That's why consistent monitoring through regular blood tests is a crucial practice.
Don't Disregard These 5 Vital Warning Signals of High Cholesterol
High cholesterol doesn't limit its impact to a single area of your body. Depending on the affected part, it can manifest through diverse symptoms that should never be taken lightly. Be vigilant for signs that might be hidden in plain sight – from your eyes to your skin and even your tongue.
Legs Don't Lie:
If you experience numbness or a tingling sensation in your legs and feet, your body might be signalling excessive cholesterol levels. These sensations might indicate the beginning of plaque accumulation within your arteries and blood vessels, hampering the smooth flow of oxygen-rich blood. Persistent discomfort, cramps, slow-healing sores, and cold extremities can further underscore this issue.
Nail Clues:
Plaque buildup within your arteries can lead to constriction and blockages. When arteries are narrowed or blocked due to high cholesterol, blood circulation gets compromised, affecting various body parts, including your nails. The appearance of black lines beneath your nails might serve as an alarming indicator. These lines, called splinter hemorrhages, typically follow the nail's growth pattern and warrant attention.
Insight into Arterial Health:
Plaque accumulation isn't just about discomfort; it can also precipitate more dire consequences like heart attacks and strokes. A clogged artery can trigger a heart attack, while a blocked brain artery might result in a stroke. Shockingly, many individuals remain oblivious to their high cholesterol until they're faced with these life-threatening scenarios.
Eyes Tell the Tale:
The eyes, windows to the soul, can also reflect the toll of high cholesterol. Yellowish growths called xanthelasmas might appear on your eyelids, serving as visual markers of excessive cholesterol levels. These fatty deposits should never be ignored as they underscore the underlying health risk.
Tongue Talk:
Even your tongue can join the chorus of cholesterol-related symptoms. The condition known as hairy tongue can emerge due to elevated cholesterol levels. This happens when the small bumps (papillae) on the tongue's surface enlarge and change colour, providing an additional indication of potential health issues.
Empower Yourself: Averting Health Threats Linked to High Cholesterol
Acknowledging the subtler signs of high cholesterol can be your first line of defence against its perilous consequences. Armed with this awareness, you can embark on a journey to make positive changes that will significantly impact your well-being.
Your healthcare provider may recommend tailored lifestyle adjustments like adopting a healthier diet, embracing regular exercise, or quitting smoking. Medication might also be suggested to lower your LDL cholesterol. It's crucial to heed these recommendations and make the necessary alterations in order to take charge of your cholesterol levels.
Remember, your body is trying to communicate with you, even when the signs are subtle. By decoding these messages and taking proactive measures, you can steer clear of potential health disasters linked to high cholesterol. Your well-being is in your hands, and it all begins with listening to the whispers your body is sharing.