Understanding Legionnaires' Disease: Causes, Symptoms, and Home Remedies
Introduction:
Legionnaires' disease is a severe form of pneumonia caused by the Legionella bacteria. While it can be a serious illness, understanding its causes, symptoms, and potential home remedies can aid in prevention and early management; here we see Legionnaires Disease Causes Symptoms and Home Remedies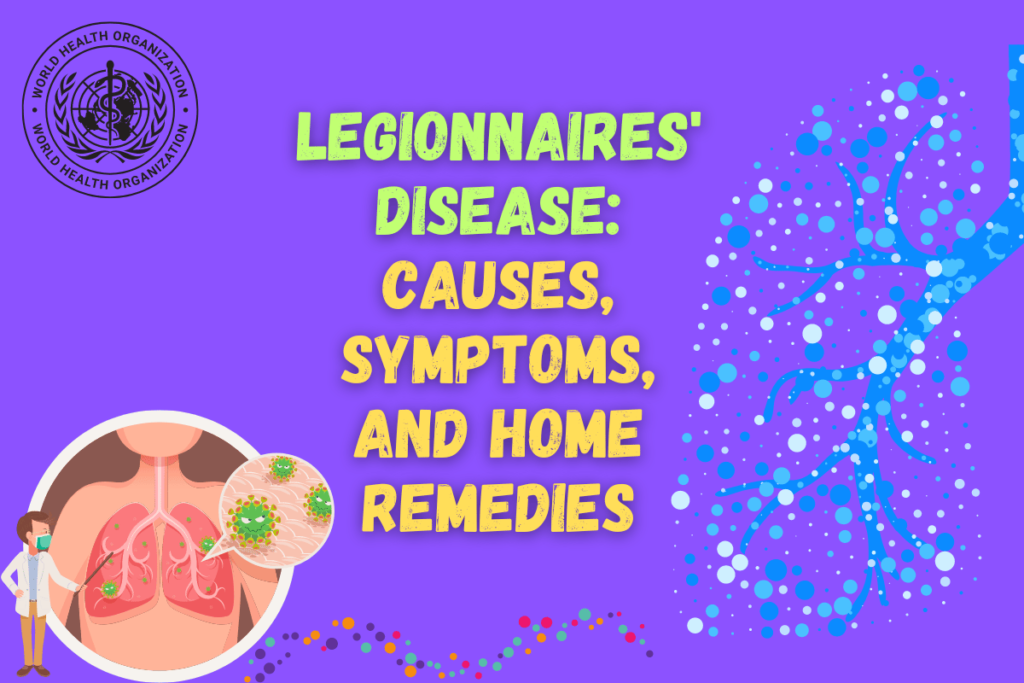 What is Legionnaires' Disease?
The Culprit – Legionella Bacteria
Legionnaires' disease is caused by Legionella bacteria, commonly found in freshwater environments like lakes and streams. They thrive in warm, stagnant water, making cooling towers, plumbing systems, and hot tubs potential breeding grounds.
Symptoms and Diagnosis For Legionnaires Disease
Early Warning Signs
Symptoms of Legionnaires' disease resemble severe pneumonia, including high fever, chills, cough, and shortness of breath. Muscle aches and headaches may also occur. Prompt diagnosis is crucial to prevent complications.
Diagnostic Methods
Diagnosing Legionnaires' disease involves clinical assessment, chest X-rays, and laboratory tests to detect Legionella bacteria in sputum or urine samples.
Causes and Risk Factors For Legionnaires Disease
How Infection Occurs
People contract the disease by inhaling water droplets contaminated with Legionella bacteria, commonly from sources like showers, fountains, or air conditioning systems.
High-Risk Groups
Individuals over 50, smokers, those with weakened immune systems, and individuals with chronic lung diseases are at a higher risk of contracting Legionnaires' disease.
Preventive Measures For Legionnaires Disease
Maintenance of Water Systems
Regular cleaning, disinfection, and proper maintenance of water systems can prevent Legionella growth. Flushing out stagnant water and keeping water temperatures below 122°F (50°C) are effective strategies.
Proper Ventilation
Well-ventilated spaces reduce the concentration of airborne bacteria. Ensuring adequate airflow in closed environments can limit the risk of infection.
Home Remedies and Tips For Legionnaires Disease
Hydration and Rest
If diagnosed early and the symptoms are mild, staying hydrated and getting ample rest can help the body fight off the infection.
Humidification
Using a humidifier at home can help keep the respiratory tract moist, relieving discomfort caused by cough and congestion.
Inhalation of Essential Oils
Certain essential oils, like eucalyptus or tea tree oil, have natural antimicrobial properties. Adding a few drops to a bowl of hot water and inhaling the steam may provide relief.
Nutrient-Rich Diet
Consuming a diet rich in vitamins and minerals, particularly vitamin C and zinc, can support immune function during recovery.
Probiotics
Probiotic-rich foods or supplements may help maintain a healthy gut microbiome, indirectly supporting the immune system.
Conclusion: Taking Charge of Legionnaires' Disease
While Legionnaires' disease requires prompt medical attention, understanding its causes, symptoms, and practicing preventive measures can significantly reduce the risk of infection. In mild cases, home remedies and supportive care can aid in recovery. However, consulting a healthcare professional is essential to ensure proper diagnosis and treatment.